Full Flier for 2019 FISTival Karate Championships (pdf)
David and Sarah Coppock Presents: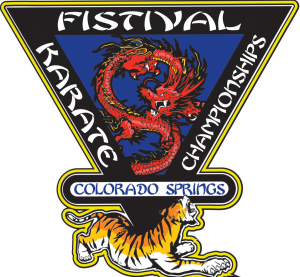 Saturday,  April 27th, 2019
Soccer Haus
4845 List Drive
Colorado Springs, CO 80919
Promoted By: David and Sarah Coppock
Registration Begins: 8:30 AM – 3:00 PM
Competition Begins: 9:00 AM
Welcome to the 19th Fistival Karate Championships. Thank you to everyone for your support over the years! This is still the "SWORD TOURNAMENT." Every adult division 1st , 2nd, and 3rd place winner will receive a sword as their trophy. This tournament is the 2nd tournament of the 2019 CKA tournament season. Please remember to sign up as a CKA member to keep your points toward the 2019 Colorado State Championships.
Good luck to all competitors!
David Coppock
Tournament Director
FOR INFO CALL: David Coppock at 719-634-6556
REGISTRATION QUESTIONS—Email Sarah Glenn—sgc0709@gmail.com
SPONSORED BY: